Speed boat :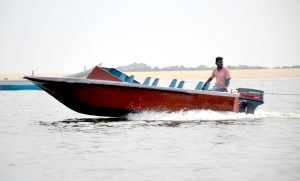 Speed boat is a adventure and craze among the tourists coming to visit Malvan. Speed freaks who love to flirt with the water can't resist getting into a speed boat. These speed boats can carry six to eight people at a time and can be used as a transportation medium. Speed is a very common passion amongst the adventure lovers.
If jet skiing is not enough for your speed thirst then move over to speed boat. More powerful, more faster, its a great group activity. There are three to six people in the boat and you get this golden opportunity to not just thrill with the speed but also explore the Tarkarli and Devbag coastline.
Fast and furiously racing against the water, speedboats give a sense of excitement that lasts for long. So, hold onto your hats and get ready for an unforgettable journey. A journey that teaches you to maneuver a roller coaster on water.