Chivla is a beach located in Malvan, Maharashtra. It is known for its white sand and clear blue waters. The most loved water sports at Tarkarli include jet skiing, banana boat rides, parasailing, and more. There are several operators offering these activities at the beach. Visitors can also enjoy swimming, snorkeling and fishing in the waters of Chivla.
Speed boat :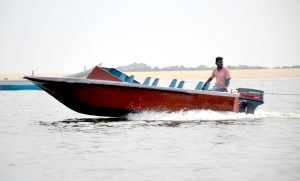 For those seeking an adrenaline rush, speed boats are the perfect way to explore the Tarkarli and Devbagh coastline. These boats can carry up to six to eight people and offer a thrilling experience as they race across the water. Speed is a shared passion among adventure lovers, and speedboats provide the perfect opportunity to satisfy that craving. So, grab your hats and get ready for an unforgettable journey that will have you feeling like you're riding a roller coaster on the water.
Banana Boat Ride :
One of the most exciting water sports activities in Devbag is banana boat rides. The banana boat is an inflatable boat shaped like a banana, connected to a motor boat. It can fit up to 4-6 people. As soon as the motorboat starts moving, the banana boat will launch the passengers into the water. It's hilarious to be thrown into the water right when you leave the beach and enter the water. After being thrown off, the passengers must climb back into the banana boat.
Jet Ski :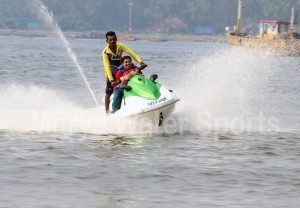 If you're looking for an adventurous holiday, Malvan is the perfect destination. With its long coastline of beaches, you can enjoy a variety of water sports, including jet skiing. Jet skiing is a thrilling activity that involves sitting on a powerful machine and accelerating with an accelerator. The engine used in jet skis can reach speeds of 100-135 horsepower. Despite its power, the device is easy to use and well-balanced. However, it is essential to follow the operators' instructions to ensure safety. Generally, instructors will create a designated area for jet skiing and the jet skis are not given directly to tourists to avoid accidents.
Bumper Ride :
A bumper ride in Tarkarli is ideal for those who wish to experience the unexplainable thrill of riding the waves without any prior experience. These small tube-like boats get power through gasoline engines or electric power. A speed boat towers the small-tube boat, can hold one or two people, and provide a thrilling and safe experience for all ages. Safety jackets and instructions are provided, making it one of the most exciting day activities in Tarkarli.